Real Life Cock Suckers
I was driving down Broadway today and I noticed television crews setting up in front of United States Congressman Ernest Istook's campaign office. Congressman Istook is resigning his congressional seat and is running for governor of Oklahoma.

On April 19, 1995, a false flag United States government-sponsored terror operation destroyed the Alfred P. Murrah Federal Building in Oklahoma City. 168 people were murdered at one time. Ernest Istook had advance knowledge of this and mouthed off about it later that day at the site of the bombing.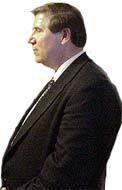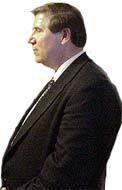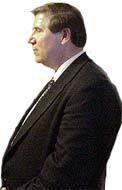 The Oklahoma City bombing is a story in itself. Just suffice for now that the local BATF and FBI and a fake county grand jury assisted in covering it up and pinning it on two lackeys known as Timothy McVeigh and Terry Nichols.

Ernest Istook, who wants to be governor of his pathetic state, had advanced knowledge of this. Yes, I am accusing him of being a terrorist; especially since his office attempts to cover the truth about this treacherous day. Actually, and in fact, Ernest Istook is an accessory and an accomplice to mass murder.

Now as I am driving by his financial whorehouse campaign headquarters I see the television crews setting up as the stoplight up ahead is turning red. As I stop, my place in line leaves me right abreast of the television crews. I cannot resist. I yell out, "Hey!" They look over. I shout, "Fuck Ernest Istook!" One of the crew bursts out laughing. I continue:"Fuck him!" About then the light turns green and I drive on.

Yet I am curious as to what the government controlled media is doing there. I make it home just as the local news is wrapping up this lead article so I am l left in the dark. I call a couple of television stations but they don't answer the phone. I get on the Internet and find out that this is part of the sex scandal involving Mark Foley (Jeb Bush's buddy).

In the live interview here, Ernest Istook makes the following statement:

"I know the prevailing standard in journalism is not to disclose the identity and personal details about minors and victims in sexual crimes. Just because one irresponsible Internet blogger chose not to follow that standard does not make it right for others to disregard it."

Istook then goes on to clarify that he is only concerned for the victim on his campaign staff as he wants to prevent this "victim" from any unnecessary embarrassment. Istook further says that the Congressional ethics Committee (read: child molesters and other perverts incorporated) should be the investigative body. Istook then refuses to answer a question from a reporter.

Three things come to mind.

One: I found out later that the page in question was 18 at the time of the "molestation" so Istook is lying when he says that he is protecting a minor. What Istook is really doing is spinning for the end of free speech; for common folk like me anyway.

Second is that Ernest Istook certainly showed a lack of concern for the victims of the exploding Murrah building by withholding his advanced knowledge of the event from those in the blast radius…basically everyone in downtown Oklahoma City. But that was not a sex crime.

The third is that Ernest Istook is now embroiled in a perverted sex scandal. I hope he chokes on his own cum. I should have circled the block and told him so on camera.