Oklahoma !
New claims by Oklahoma City Bombing conspirator Terry Nichols that Timothy McVeigh was being steered by a high-level FBI official are supported by a plethora of evidence that proves McVeigh did not act alone and that authorities had prior warnings and were complicit in the bombing of the Alfred P. Murrah building.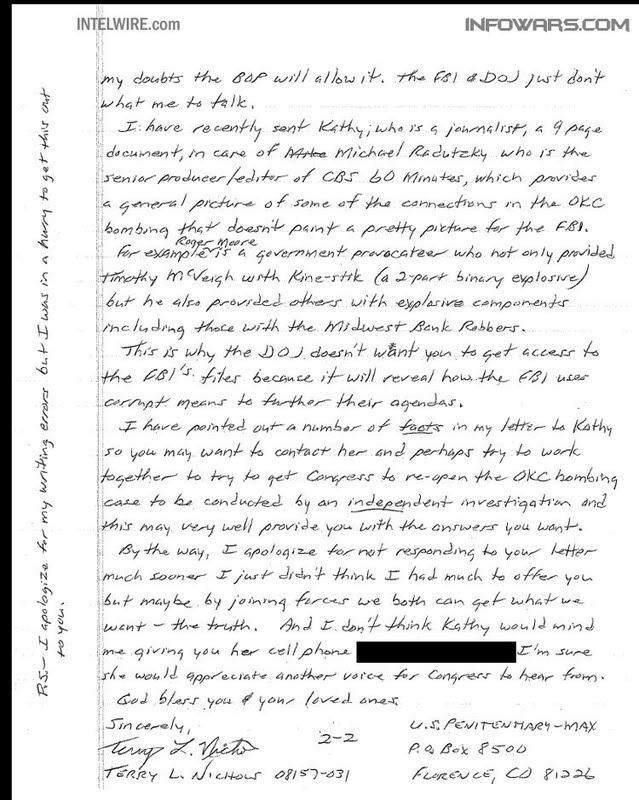 The
Salt Lake Tribune
reported yesterday:
Oklahoma City bombing conspirator Terry Nichols says a high-ranking FBI official "apparently" was directing Timothy McVeigh in the plot to blow up a government building and might have changed the original target of the attack, according to a new affidavit filed in U.S. District Court in Utah.
The official and other conspirators are being protected by the federal government "in a cover-up to escape its responsibility for the loss of life in Oklahoma," Nichols claims in a Feb. 9 affidavit.
Documents that supposedly help back up his allegations have been sealed to protect information in them, such as Social Security numbers and dates of birth.
The U.S. Attorney's Office in Utah had no comment on the allegations. The FBI and Justice Department in Washington, D.C., also declined comment.
The affidavit was filed in a lawsuit brought by attorney Jesse Trentadue, whose brother Kenneth was tortured and beaten to death in an Oklahoma City federal prison in 1995. Authorities claimed Trentadue had committed suicide but he was being held in a suicide proof cell at the time and
autopsy photos
of his body showed he had been shocked with a stun gun, bruised, burned, sliced and then hung.
Jesse Trentadue has amassed evidence that his brother was mistaken for one of Timothy McVeigh's alleged bombing accomplices and in attempting to get him to talk Federal agents went too far and then tried to instigate a cover-up of the murder.
Read complete article
HERE
.
More
HERE
.